Egypt: Chaos and suspicion in a Cairo mortuary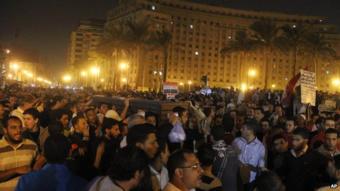 There have been allegations that officials at Cairo's Zeinhom mortuary have been doctoring autopsy reports to cover up suspicious deaths, despite claims from the country's police force that it no longer shoots protesters.
The stench is the first thing that hits you as you enter Cairo's Zeinhom mortuary.
The air, already thick with the stifling heat of the day, fills with the smell of blood and chemicals.
In Egypt, violent deaths are often politicised and activists say that autopsies are manipulated to cover up police brutality.
Inside the Zeinhom mortuary, staff stand accused of aiding this process.
Weeks earlier, I had been welcomed into the home of Amal Abbas. Dressed top-to-toe in black, she was in mourning.
She says that mortuary officials hid her son's body after he was shot by police.
Mohamed, a regular at anti-government protests, went missing in late January after joining an evening demonstration.
Family and friends spent weeks searching for his body, returning many times to Zeinhom with photographs and a description of his clothes.
Requests to enter the facility were repeatedly denied, but on the 10th visit, his uncle was allowed in.
He found Mohamed's body with a bullet wound between the eyes.
Amal insists that her son was the victim of a cover-up by police and mortuary officials.
"Tell me, why else would they leave him to lie in secret in the mortuary for a whole month?" she asks angrily. "We asked after Mohamed time and time again, but they told us nothing."
But inside the mortuary, staff protest their innocence. They feel aggrieved at the accusations that dog their work and complain they are under-equipped and over-stretched.
The budgetary crisis facing President Mohamed Morsi's government means that there is little money to invest in forensics or mortuaries at the moment.
Staff complain that they are having to pay for their own gloves, tools, and even chemicals.
Some of their microscopes are two decades old and since the wheels broke on the X-ray machine, it has been abandoned in a corner.
The mortuary itself is filthy and cigarette butts litter the blood-flecked floors.
Sitting in the cramped reception, I ask technicians Amr and Ahmed about their equipment.
Amr is adamant: "We are not asking for a lot - we've seen what expensive equipment can achieve. But all we ask is that our tools are updated. Is that unreasonable?"
As he speaks, I hear wailing through the broken window. Outside in the courtyard, a mother has arrived and mortuary officials are refusing to let her in.
When she grows more hysterical, they close the door in her face.
There is little compassion here.
Zeinhom's resource crisis has heartbreaking implications for those who visit.
Record-keeping is chaotic, and families will often search through an overwhelming number of corpses with no guarantee of success.
Gesturing towards a bank of old fridges, a doctor tells me that a mother can look through almost 100 bodies before finding her dead child.
"And all the while there is the stench, the noise," he says. "We do not do this right."
My mind drifts back to Amal. Her search party had been through this exact process.
When I ask the doctor why the family had to go through this ordeal, he picks up the faded blue record book that is used for unidentified bodies.
"Mohamed's arrival was noted in here, but once a body is stored, it can quickly fade from the memory," he says. "This was just one more arrival. We did not expect to see him reclaimed."
But surely the wounds on his body must have prompted suspicion, I ask. "Of course," says the doctor, "but we receive so many of these cases."
He estimates that Cairo's forensic doctors deal with over 1,000 cases of police brutality a year following releases from custody, and says that he regularly receives corpses scarred with belt marks, cable welts and electric burns.
"But what can we do?" The question appears genuine. "Without an order from the public prosecutor, we cannot even conduct an autopsy."
Leaving Zeinhom, I notice two marble pillars in the courtyard. Plastered with peeling photocopies, they carry the names and smiling photographs of scores of missing people.
Ahmed Mahmoud Hussein, absent since April. Sami Abdel Hakim Fakhad and his little daughter Bous-Bous, missing since November.
I wonder what reception their families received when they knocked on the mortuary's front door.
According to historian Khaled Fahmy, Egypt's one-time position as a regional trailblazer was based on its history of strong professional institutions.
In forensic science, especially, Egypt stood head and shoulders above its neighbours.
But now, the decline of facilities like Zeinhom reflects a growing inability to afford citizens dignity, even in death.
Rather than maybe revealing a cover-up, I wonder whether Mohamed's story instead offers a more heartbreaking window onto the systemic failures that continue, despite a revolution.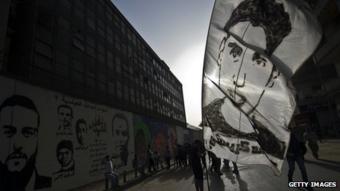 (BBC)
Egypt: Chaos and suspicion in a Cairo mortuary
Reviewed by
John Ayo
on
13:27
Rating: